When we think of dinosaurs, we often conjure images of towering giants that roamed ancient landscapes. However, the world of dinosaurs was as diverse as the one we know today,filled with creatures both colossal and curious. One such enigma from the Mesozoic era is Nigersaurus, a dinosaur that redefined our understanding of herbivores. Join us on a journey back in time as we unravel the unusual tale of Nigersaurus, the Mesozoic muncher.
A Peculiar Name and a Discovery in Niger
Nigersaurus owes its name to the country where its remains were first unearthed: Niger, in West Africa. Discovered in the late 20th century by renowned paleontologist Paul Sereno and his team, Nigersaurus made headlines due to its distinct features that set it apart from the typical image of a dinosaur.
The Unconventional Skull
What makes Nigersaurus truly exceptional is its skull. Unlike the robust skulls of its sauropod relatives, Nigersaurus had a skull that resembled a broad, elongated vacuum cleaner nozzle. This unique adaptation was a masterpiece of nature, designed for a specialized diet.
Teeth for a Lifetime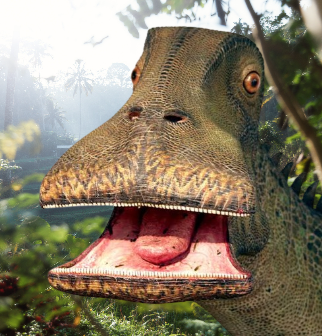 Nigersaurus's most striking feature was its dental arrangement. Instead of the large, prominent teeth you might associate with herbivorous dinosaurs, this dinosaur sported hundreds of slender, needle-like teeth arranged in more than a dozen rows. These teeth were continually replaced, much like a conveyor belt, ensuring that Nigersaurus always had a fresh set for its peculiar feeding habits.
A Low Browsing Lifestyle
Nigersaurus's odd dental configuration offered a clue to its dietary preferences. It was a low-level browser, meaning it primarily fed on plants growing close to the ground. The sheer number of teeth and their arrangement allowed it to crop vegetation efficiently, much like a modern-day lawnmower. It preferred ferns, cycads, and other low-lying plants over towering trees.
A Remarkable Find in the Sahara Desert
The discovery of Nigersaurus's fossils in what is now the Sahara Desert offered a glimpse into the prehistoric past of a region that was once a lush, subtropical floodplain. It was an environment teeming with diverse flora and fauna, providing a suitable habitat for this unique herbivore.
Size and Social Behavior
Nigersaurus was not among the largest of sauropods; it measured about 30 feet (9 meters) in length and had a relatively lightweight build. It is believed to have lived in herds or groups, a common social structure among many dinosaurs, offering safety in numbers and facilitating the search for food.
A Window into the World of Dinosaurs
Nigersaurus challenges our preconceptions about dinosaurs. It reminds us that these creatures came in all shapes and sizes, each finely tuned to its ecological niche. Its peculiar adaptations illustrate the creative power of evolution, shaping organisms to exploit unique food sources.
The Legacy of Nigersaurus
While Nigersaurus might not be as iconic as the towering Tyrannosaurus rex or the colossal Brachiosaurus, its legacy is significant. It has expanded our understanding of the incredible diversity that existed in the dinosaur world, proving that evolution often favors the unconventional and the specialized.
Conclusion
Nigersaurus, the Mesozoic muncher, is a testament to the wonders of prehistoric life. Its unique skull and dietary adaptations have left an indelible mark on paleontology, forever changing the way we perceive herbivorous dinosaurs. As we delve deeper into the annals of Earth's history, we continue to uncover nature's remarkable experiments, reminding us that the world of dinosaurs was a fascinating tapestry of life.